support for immunity, healthy liver, healthy joints, pieces of meat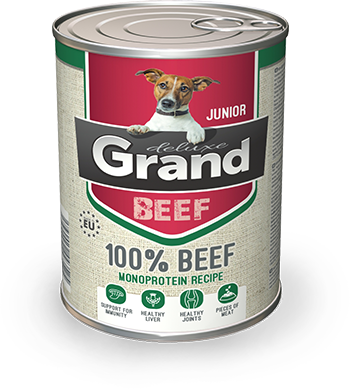 100% Beef
monoprotein

GRAND® Dog Food
Complementary dog food with a high content of vitamins and amino acids in their natural form. Does not contain any chemical ingredients or preservatives, soya or gluten. Suitable for all dog breeds of all ages. This limited ingredient formula is recommended for dogs with sensitive stomachs as it contains only beef protein which may reduce the possibility of allergic reactions.
Ingredients: 70 % beef meat, 20 % beef lungs and hearts, 9,4 % beef larynx, 0,2 % oyster mushroom, 0,2 % milk thistle, 0,2 % hydrolized collagen. Analytical composition: Moisture 70 %, Crude protein 21 %, Crude fats and oils 8 %, Crude ash 1 %, Crude fibre 0,2 %.

Serving size:
Recommended daily feeding amount: 150 – 250 g of the contents of the can for every 5 – 10 kg of the dog's weight. For balanced diet mixing the contents of the can with dry food is recommended. We recommend decreasing the daily amount of dry food of about 15 – 25 % based on the dog's activity level if you add the canned food.